THE DENTCO PAINTLESS DENT REPAIR

The Dentco Paintless Dent Repair by

The Dent Company
Superior For Auto Hail Damage Repair & Most Dents
Fast, free and friendly estimates are just a phone call away.
Immediate Appointments available.
Paintless Dent Repair

[peynt•less dent ri•pair]
Paintless Dent Repair (PDR) is the art of removing dents in vehicles without disturbing the factory paint.  Using highly specialized tools by experienced PDR technicians, dents are gently reset back to their natural state.  The vehicle stays original and the paint stays perfectly intact. 
"We didn't invent the Paintless Dent Repair process, we just perfected it."
The Dentco Paintless Dent Repair (PDR)
Paintless Dent Repair Benefits:
Paintless Dent Repair The Dentco Colorado
Free Valet Service - Pick up & Drop Off
6260 W 52nd Ave #112
Arvada CO, 80002
(303) 954-9676
11450 Huron St. Ste. D
Northglenn, CO 80234

(303) 451-5536
Monday - Saturday 8:00am - 7:00pm
APPOINTMENTS ARE ALWAYS AVAILABLE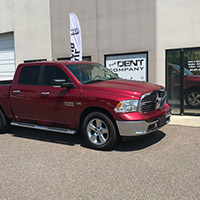 Contact Us/Book Appointment Online
We respond quickly...Usually within the hour during business hours.