THE DENTCO AUTO HAIL REPAIR
DEDUCTIBLE ASSISTANCE | FREE RENTAL PROGRAM
The Dentco Auto Hail Repair by

The Dent Company
The Auto Hail Repair Experts
National Lifetime Warranty
Free Valet Service - We'll Pick Up & Drop Off
Immediate Appointments Available
THE DENT COMPANY EXCLUSIVE
The Dentco Auto Hail Repair
The Dentco Auto Hail Repair
Lifetime Warranty | Satisfaction Guarantee
Our Estimates Are Always Free
We offer fast, friendly and free estimates for any of our services including Auto Hail Repair and Paintless Dent Repair. Just give us a call to schedule an appointment.  We will go over the estimate with you and answer any questions you may have. 
The Dentco Auto Hail Damage Repair
Save $500 Today on Auto Hail Repair
Our Auto Hail Repair Service is so efficient and cost-effective that we are able to pass those savings on to our customers. No tricks.  No gimmicks. Just bring your vehicle(s) to us for for auto hail repair and we will cover the first $500 of your deductible.  
Benefits Of Paintless Dent Repair (PDR)
For The Dentco Auto Hail Damage Repair
Auto Hail Repair The Dentco Colorado
Free Valet Service - Pick up & Drop Off
6260 W 52nd Ave #112
Arvada CO, 80002
(303) 954-9676
11450 Huron St. Ste. D
Northglenn, CO 80234

(303) 451-5536
Monday - Saturday 8:00am - 7:00pm
APPOINTMENTS ARE ALWAYS AVAILABLE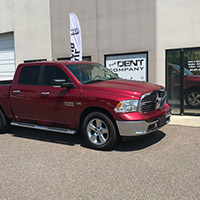 Contact Us/Book Appointment Online
We respond quickly...Usually within the hour during business hours.